When I first heard of the concept of "self-care" I thought of those elaborate bath setups that I had see on Instagram: those beautiful bathrooms with flowers and candles everywhere and that perfectly poured glass of wine. While those beautiful baths are certainly a great form of self-care, as a holistic nutritionist, the idea of it means something totally different for me now. Of course I see the value in taking the time to read, take a bath or meditate- but I believe that the biggest form of self care we can practice is through the foods that we fuel our body with.
I think the need for self-care was born from the fact that so many of us don't take time to take care of ourselves. So often we just go about our daily lives and self-care never really happens. The unfortunate reality is that we are all living in a constant state of stress- one way or another we all have some form of stress in our lives. Usually there isn't anything that can be done about the actual stressor, but what can be done is how we help our body and mind through that stress. This is where nutrition comes in handy.
In my practice I see how easily nutrition and food habits get neglected during stressful periods. But when we are going through stress, nutrition is even more important as our body's nutritional needs actually increase. The body needs to use more of its resources in order to maintain the stress response. By providing your body with the right fuel, you're actually giving it the raw materials it needs to maintain its balance. Maintaining balance in the body will actually help decrease the stress response, which means you'll feel better, less stressed and more capable of making it through your day.
Nutrition is incredibly powerful and there are so many easy ways that you can incorporate healthy habits, along with nutrients and herbs to help calm the body and help you better manage stress. Eating right is a simple self-care practice that is easily incorporated into your daily routine!
I can always tell when my body is in need of some extra care when I'm feeling stressed. I'll go through some intense cravings for all of my favourite comfort foods: ice cream, cookies, wine, pasta, cupcakes, and chocolate (to name a few). Instead of indulging in these foods that only serve to make me feel good in the moment, I focus on fueling with the right foods to provide my body with the nourishment that it needs.
By focusing your diet on fresh, whole foods you're providing your body with the nourishment it needs to thrive! Packaged, processed and fast foods provide very little nutritional benefit and they actually strip your body of nutrients. It can be so easy to reach for these foods when you are feeling stressed, because we naturally crave those comforting feelings when we get overwhelmed. But I find I get even more comfort from a delicious home-cooked meal. There's a natural comforting feeling when you know you are providing your body with the nourishment that it needs. You may feel good in the moment when you are eating fast foods, but you'll feel better, longer when you cook nutrient dense foods from home.
Another thing I do when I'm craving those classic comfort foods is I take a closer look at what I'm craving and how I can make a healthier version of it. If I'm craving pasta, for example, I think of a recipe I can make to help satisfy that craving while still fueling my body right. Instead of going for takeout, I'll make pasta from home using a whole-grain pasta and load it up with lots of good fat and veggies. Part of my self-care process is being in my kitchen and cooking- I absolutely love cooking and I find it very therapeutic. For me, cooking a well-balanced meal is the best way for me to de-stress and feel better.
Tea is another great tool that I use for self-care. Teas and herbs have so many therapeutic, healing properties- the simple act of enjoying a cup of tea will have so many benefits to your body. Teas that include herbs like chamomile, lemon balm, lavender, and passionflower are so great for calming the nervous system and reducing the effects of stress. They will naturally reduce those stressful, anxious feelings and help bring a sense of calm to your day. What I love most about using this habit is it's so easy to incorporate! You can make a cup of tea in no time and it also allows you to slow down for a minute while you enjoy it.
There are so many great ways that you can use nutrition to fuel your self-care habits! The most important habits are the ones that you can feel good about incorporating into your routine. What works for someone else won't work for you, and that's okay! Find those habits and foods that you truly enjoy so that you'll be more likely to keep them in your routine. The most important thing is to always make sure you're nourishing your body and mind to be the healthiest 'you' you can be!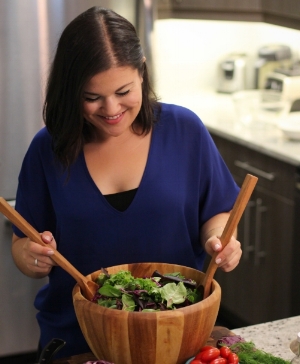 is a Holistic Nutritionist and Certified Nutritional Practitioner practicing in Winnipeg, MB. She works one-on-one with her clients to uncover the root cause of their health concerns and help them find their love of food again. Alaina also manages her blog and social media- Deliciously Nourished- where she frequently shares her tips and tricks to living healthier along with her own recipes. Alaina believes in keeping things simple and loves providing realistic and relatable nutrition advice and inspiration to her community.